This is another easy Keto recipe that can be made in no time. I'd highly recommend those baking cups because they made a huge difference in structure and clean up. They're also a really good serving size for these peanut butter cheesecake bites aka more than a couple bites!
All you need is Cream Cheese, Heavy Whipping Cream, Erythritol (I use Swerve), Peanut Butter, Chocolate (Lily's is my favorite! Sweetened with erythritol) and Coconut Oil.
Here's how you make them!
KETO PEANUT BUTTER CHEESECAKE BITES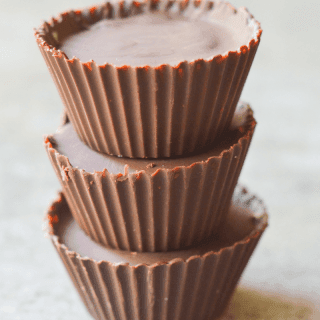 Author: Hey Keto Mama
Yield: 6
ingredients
8 oz cream cheese, softened
1/4 cup powdered erythritol
1 tsp vanilla extract
1/4 cup heavy whipping cream
1/4 cup peanut butter
3/4 cup Lily's Sugar Free chocolate (I used 1.5 bars)
2 tsp coconut oil
instructions
Mix cream cheese, erythritol,and heavy whipping cream until smooth
Mix in peanut butter and vanilla extract until fully combined, set aside
Melt chocolate and mix with coconut oil
Brush silicone cups with chocolate mixture and place in freezer for 5 minutes
Repeat previous step and freeze for 10 minutes
Place a couple spoonfuls of cheesecake fluff into cup and freeze for 15 minutes
Top cups with chocolate to cover cheesecake fluff
Freeze for 20 minutes covered or refrigerate for 1 hour
notes
I found these stored better in the fridge after they initially set
If you store in freezer allow 10-15 minutes to thaw before eating
Be sure to use a natural peanut butter with no added sugar
Please note that I am not a certified nutritionist. Any nutritional information that is discussed or disclosed in this post should only be seen as my best amateur estimates based on NET carbs. If nutrition is important to you, I highly encourage you to verify any data you see here with your favorite nutrition calculator.
nutrition
Serving Size: 1 cup
Calories: 233
Sugar: 3
Fat: 22
Carbohydrates: 4 net
Protein: 4
www.eliteweightloss.com